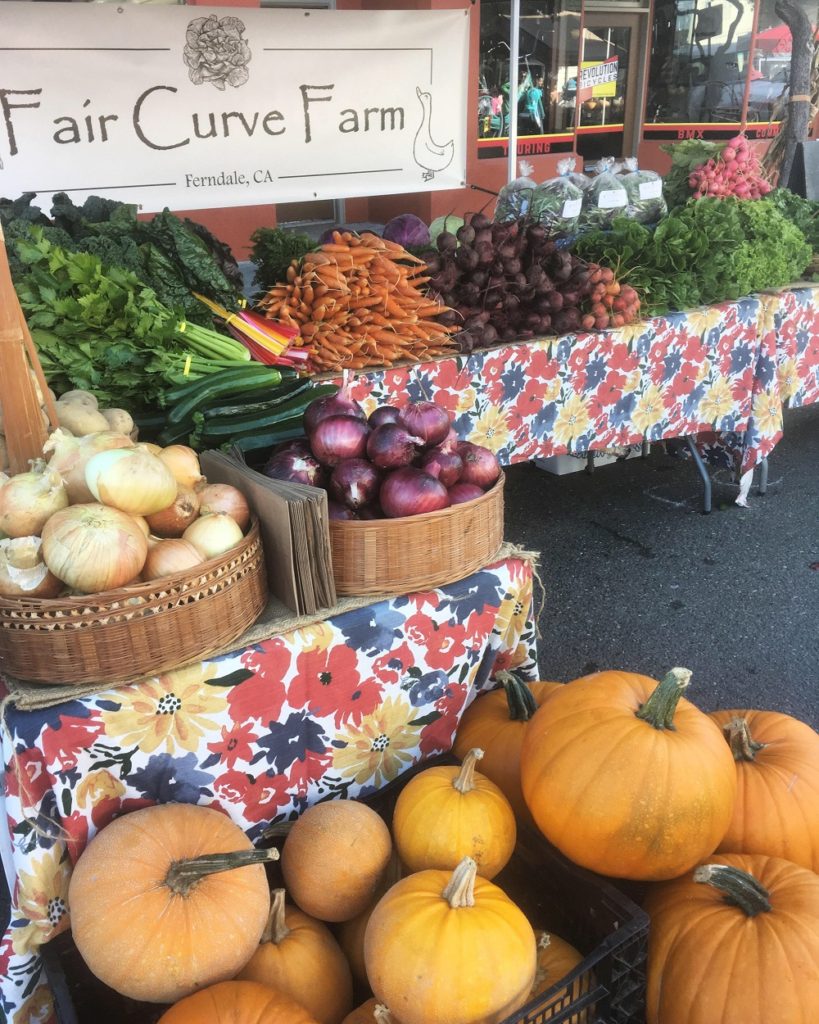 Not familiar with the term CSA? Click here to find out what it's all about!
Our Free-Choice CSA: How it Works and Why We Do It
We personally enjoy having the freedom to choose what we eat, how much of it we buy at one time, and when we eat it. We feel that you should too! That's why we have chosen to provide a free-choice, market-style CSA.
Instead of providing weekly, pre-packed boxes of veggies, shareholders can visit us at our weekly stand in downtown Ferndale and at our local farmers' market locations, choosing their produce from a farmers' market-style display. Shareholders can expect a wide array of fresh produce throughout the year, all at a discounted price (10% off). Along with our produce, shareholders will have the option to purchase culinary herbs, flower bouquets, and occasionally delectable duck eggs.
Using a credit system, we will simply deduct the cost of your purchase from your pre-paid account, and be sure to let you know your balance each week.
Share Type/Share Size, Payment Options and Pricing
Receive 10% off your produce when you sign up with us!
Share Type

Share Size

Payment Options

Cost of Share

(10% off share value)

Share Value

(your credit to spend)

FULL
Feeds veggie-loving individuals / families who regularly prepare most meals at home.
-In full

-2 Payments*

-3 Payments*

$450

$225/$225

$150/$150/$150

$500

HALF
Feeds individuals or small families who prepare many meals at home, but may eat out a couple times a week.
-In full

-2 Payments*

-3 Payments*

$225

$112/$113

$75/$75/$75

$250

QUARTER
Feeds individuals or small families who buy veggies regularly, but in small quantities each week.
-In full

-2 Payments*

-3 Payments*

$112.50

$56/$56.50

$37/$37/$38.50

$125
Share payments are non-refundable. Credit must be used up by the end of the season.
*2 payments: First payment is due at sign-up, second is due by June 1st.
*3 payments: First payment due at sign-up, remaining two payments due by June 1st.
Where We Sell:
All farmers' markets begin first week of June and end the last week of October. Our farm stand may extend it's date into November, depending of quantity of produce available.
TUESDAYS ~ Fortuna Farmers' Market · 3-6pm · 10th Street in Fortuna
THURSDAYS ~ Eureka Henderson Center Farmers' Market · 10am-1pm · Henderson St. & F St.
SATURDAY ~ Wells Fargo Advisors · 10am-2pm · Main Street in Ferndale
Things to know and understand about the farm & CSA program:
GROWING PRACTICES ~ We are dedicated to using sustainable farm practices that improve the soil we farm on and encourage beneficial insect activity. These practices include, but are not limited to, diversified crop planting, cover cropping, crop rotation, limited tillage, creation and addition of compost, integrated pest management, and companion planting. We do not use genetically modified seeds or synthetic fertilizers or pesticides. We do our best to always purchase products that are OMRI-approved.
SHARED RISKS ~ Something that every farmer must realize and accept when they choose to run a farm is the risk that comes along when operating a business as well as when partnering with nature. It is our top-priority to grow, manage and provide our shareholders with a large diversity of quality produce each week, but we must acknowledge that life and nature sometimes brings unexpected weather, relentless pests, mechanical failures, and other production-related issues, despite our best efforts. We will be open and honest about the struggles we encounter throughout the season, and make sure you know in advance what products will and will not be available. As far as food safety goes, we would like to advise you to wash your produce before you consume or cook with them. Some produce is better stored unwashed, so we may display them that way. Just give them a quick rinse before you prepare a meal.
SHARED REWARDS ~ By purchasing a share in our farm's bounty, you not only gain access to freshest, highest quality, local produce throughout the year, but also help with the high costs of our early-season expenses. Preparation for the harvest season includes purchasing of seeds, tools, labor and other things necessary to help ensure a successful year. Investing in our farm helps us bring you the healthiest, prettiest and most diversified selection of produce we can grow. In addition, we love the community that comes with running a CSA. We hope that you'll also enjoy the experience of possibly making new friends, spending time with old ones, sharing recipes, and learning ways to preserve the harvest when you become a part of our little farm family.
Communicating with us:
We are available by phone, email, and in person during scheduled farm stand and farmers' market hours! We want to maintain regular communication with our shareholders, as this is something that helps us improve our business decisions and supports the community around the farm.
---
If this sounds like something you and your family would like to be a part of, read our 2018 Shareholder Agreement to get the full details of the program! Click on the link below to open the downloadable, printable document: